Back to news
Phasecraft launches its 2023 Quantum Algorithms Internship Programme
31.01.23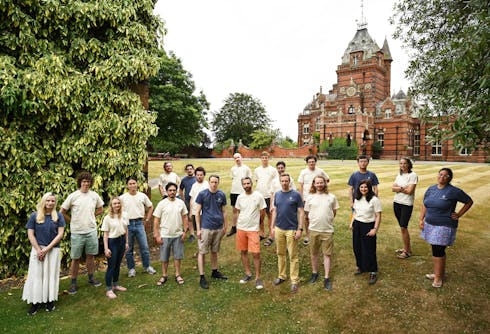 After two successful programmes in 2021 and 2022, we are delighted to launch our new Quantum Algorithms Internship programme.
Who are we?
Phasecraft is the quantum algorithms company. We are building the mathematical foundations for quantum computing applications that solve real-world problems. Founded in 2019 by Toby Cubitt, Ashley Montanaro and John Morton, we are based in London and Bristol. In 2020 we completed a record £3.7m seed round for a quantum computing company in the UK, led by VC firm LocalGlobe.
Phasecraft's unprecedented access to today's best quantum computers – through partnerships with Google, IBM, and Rigetti – provides us with unique opportunities to develop foundational IP, inform the development of next-generation quantum hardware, and accelerate commercialisation of high-value breakthroughs.
What will you do? As a Quantum Algorithms Intern you will have the opportunity to join the Phasecraft team for a few (typically 2-3) months. Not only will you work on a technical research project focusing on the design, implementation or analysis of quantum algorithms and related techniques in near-term quantum computing, but you will also have the chance to experience life in a young and vibrant startup that is constantly pushing the boundaries of our knowledge of quantum computing. Past projects have ranged from theoretical work on the underpinning mathematics of quantum algorithms to writing code for real or simulated quantum hardware.
Our recent internship programmes have proven to be meaningful and successful. We recently hired our first permanent staff member who had previously enjoyed our Internship programme and last year we also published the first paper based on a project undertaken by one of our interns (https://arxiv.org/abs/2210.05652).
The internship is a paid position with a competitive salary. Interns are based with the Phasecraft team in our offices in Bristol and/or London. Internships usually take place over the summer months, though dates can be flexible.
Who are we looking for? As a Quantum Algorithms Intern we expect you to have a keen interest in quantum computing and quantum information. You should have taken some taught courses on quantum computing, or have research experience in the area. Most previous interns have been undertaking a PhD on the theory of quantum computing, but we will also consider outstanding undergraduate students and those who are not currently enrolled in an academic programme.
How do you apply? To apply, please click here https://apply.workable.com/j/514C47B6A3 and include your CV, details of two referees, a covering letter and academic transcript. The closing date is 24th February 2023.
We welcome international applicants who are eligible for a UK Government Authorised Exchange visa.